Over Drive Girl 1/6 (anime) (Amazing Stranger, Choukadou Girl 1/6, Chō Kadō Gāru 1/6, 超可動ガール1/6) is the anime adaptation of the Japanese tankōbon manga series by Öyster. It aired from April 6, 2019 to June 22, 2019 having twelve episodes lasting twelve minutes each. The series was animated by Studio A-Cat.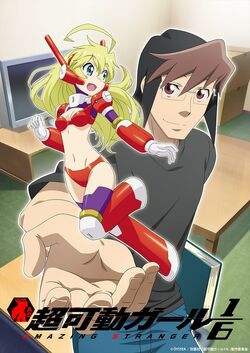 Bouida Haruto, a hardcore otaku with no interest in 3D (real) women, once appreciated figures from afar, accepting that "if you get into them, there's no turning back." However, when Nona, a character he loved from an anime called "Girls→Planetary Investigation" had a figure of her released, he ended up purchasing it. And then that night, the figure of Nona somehow came to life, and a couple-like lifestyle between man and toy began.
Opening Theme: "Soreyuke! Koigokoro" by AOP (Episodes 1-12)
Ending Theme: "One" by Toujou Haruka (Episodes 1-12)
#
Title
Air Date
01
You're a Super Mobile Girl

君は超可動ガール, Kimi wa Chō Kadō Gāru

April 6, 2019
02
Earth Robot: Ozma

地球ロボット・オズマ, Chikyū robotto Ozuma

April 13, 2019
03
What You Learn Today Can Be Overturned Tomorrow

今日知ったことは明日覆る / ふたりのクリスマス, Kyō Shitta Koto wa Ashita Kutsugaeru/ Futari no Kurisumasu

April 20, 2019
04
Bellnoa the Brave

勇者ベルノア, Yūsha Berunoa

April 27, 2019
05
Dragulious Saga

ドラグリウスサーガ, Doraguriusu Sāga

May 4, 2019
06
Even in Love, Even in Love

ラブしても ラブしても, Rabu Shite mo Rabu Shite mo

May 11, 2019
07
Keep the Secret a Secret

ナイショはヒミツにしておいて, Naisho wa Himitsu ni Shite Oite

May 18, 2019
08
Striking Fist

ストライキング・フィスト, Sutoraikingu Fisuto

May 25, 2019
09
Love You Till I Die, Love Even Your Lies

死ぬまで愛して ウソまで愛して, Shinu Made Aishite Uso Made Aishite

June 1, 2019
10
Another World! Staying with Figurines at a Hot Spring Inn

別天地! フィギュアと泊まれる温泉宿, Bettenchi! Figyua to Tomareru Onsen yado

June 8, 2019
11
Space Probe`s (Space Pilot`s) Song

惑星探査機[うちゅうひこうし]の歌, Uchūhikōshi no Uta

June 15, 2019
12
Let Me See Your Universe

君の宇宙を見せて, Kimi no Uchū o Misete

June 22, 2019
Community content is available under
CC-BY-SA
unless otherwise noted.